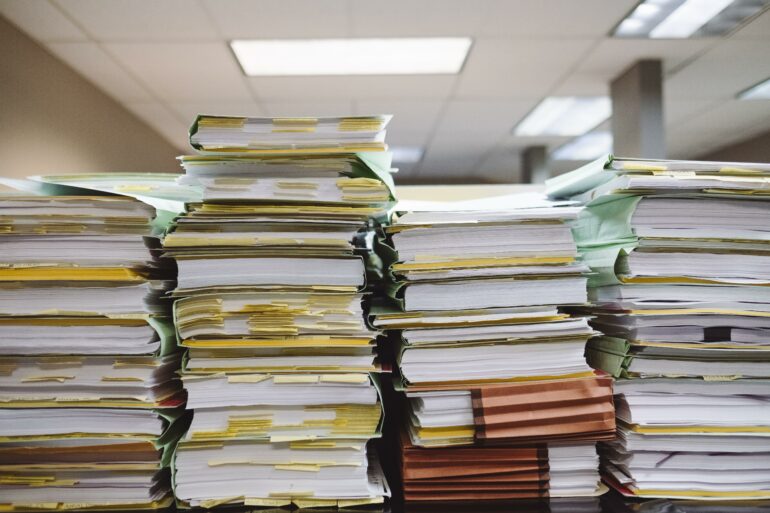 As a fiduciary, the beginning of the year is always accompanied by an above-average workload for you. We, therefore, present 3 points on how intelligent fiduciary software can make your diary more pleasant and create space for value-added fiduciary activities.
The last notes of the well-known Christmas classic "Every year again" have finally faded away and the ambitious New Year's resolutions have been made. But for many SMEs and fiduciary companies, the celebrations are followed by a New Year's hangover.
It's not about the extra kilos on the scales (thanks to Mailänderli & Co.) or the obligatory grumpy head after a long New Year's Eve, but about the annual closing stress. In this blog post, you will find out how this stressful time can be managed without night shifts and how the annual duty "graduation" becomes a freestyle.
Point No. 1 – upstream finishing work fully automated
Before you, as a fiduciary can start with the annual accounts, there is a lot of upstream work to be done. Repetitive accounting tasks in particular take up a considerable amount of your valuable working time.
Conventional fiduciary solutions do not offer any relief insofar as they only digitally map the manual processes. As a result, a simple booking (e.g. vendor invoice) still requires a lot of manual work even in the digital age. Intelligent fiduciary software – such as that from Accounto – already completely frees you from such manual and repetitive accounting tasks.
For example, it recognises the software automatically, and all business documents (including invoices, insurance policies and contracts). If the document (e.g. incoming invoice) entails a FIBU entry, this is done automatically by means of artificial intelligence. This means that neither your customer nor you have to enter and post the invoice manually.
Also, the time-consuming Account reconciliation work (bank, debtors and creditors) is fully automated with Accounto, which leads to additional relief in the annual financial statement. Expressed in numbers: Thanks to this automation, you save around 85% of the workload.
Point No. 2 – Handling voucher-oriented communication via the platform
In addition to the upstream work, communication between SMEs and fiduciary companies is a particular challenge in connection with the annual financial statements. Because especially the email ping-pong and the ill-timed telephone calls put a strain on the Customer relationship unnecessarily.
Many accounting solutions pay little attention to the communication between the SME and the fiduciary company, as they only address one side of the market (either SME or fiduciary company). As intelligent fiduciary software, Accounto goes one step further here.
Firstly, there is a daily update. Firstly, there are hardly any queries about individual vouchers at the end of the year. Secondly, Accounto enables – if necessary – an exchange at the Document level. A submitted hotel bill seems dubious? You can easily submit a query to the SME about this specific document via the platform.
The necessary Everyday communication can be handled completely via Accounto: time-independent, document-oriented and always traceable – even years later. The result: more time for valuable discussions between SMEs and fiduciary companies.
Point No. 3 – Digital task management ensures transparency
In the traditional closing process, the SME receives a checklist or, at a later stage, customer-specific emails with open points around the annual financial statements. However, this multi-channel task organisation means that both SMEs and fiduciary companies quickly lose track of what is going on, which unnecessarily delays the closing process.
Accounto solves this problem with digital to-do lists. All pending items can be recorded on Accounto, assigned to the responsible person and given a due date. Of course, there is also the possibility to exchange information on individual tasks directly via the platform.
For example, if the SME has not yet submitted the list of leasing liabilities, you can enter a corresponding task for the client. Finally, the task lists contribute to less email traffic, clear responsibilities and thus more transparency.
Annual accounts mean consultation time from now on
You may now be wondering what other activities SMEs and fiduciary companies perform around the annual financial statement. Let's answer this question for SMEs first: none! Because entrepreneurs should focus on their core business.
Thanks to Accounto, you as a fiduciary company gain time which you can invest in the closing consultation. After all, clean closing entries (e.g. transitory items), in-depth analyses (e.g. cash flow statement) and targeted tax optimisations (e.g. salary vs. dividends) are bound to create more appreciation and added value for SME owners than, for example, bank reconciliation.
A practical example
We compare the three most common scenarios of how an SME complies with its accounting obligation. The financial statements are prepared by a fiduciary company in all three scenarios.
Scenario 1:
The SME does not use business software and works with a fiduciary company.
Scenario 2:
The SME uses classic business software, books itself and also relies on cooperation with a fiduciary company.
Scenario 3:
The SME does its bookkeeping with Accounto and a fiduciary company.
A limited liability company (2 employees and approx. 10–20 vouchers per month), which receives the following fiduciary services, serves as a basis for comparison:
Accounting
Annual accounts
VAT statement
Tax return
According to the offer portal Gryps a fiduciary company charges around CHF 2,500 for the services listed, which, at an average hourly rate of CHF 120, corresponds to an annual workload of around 20 hours.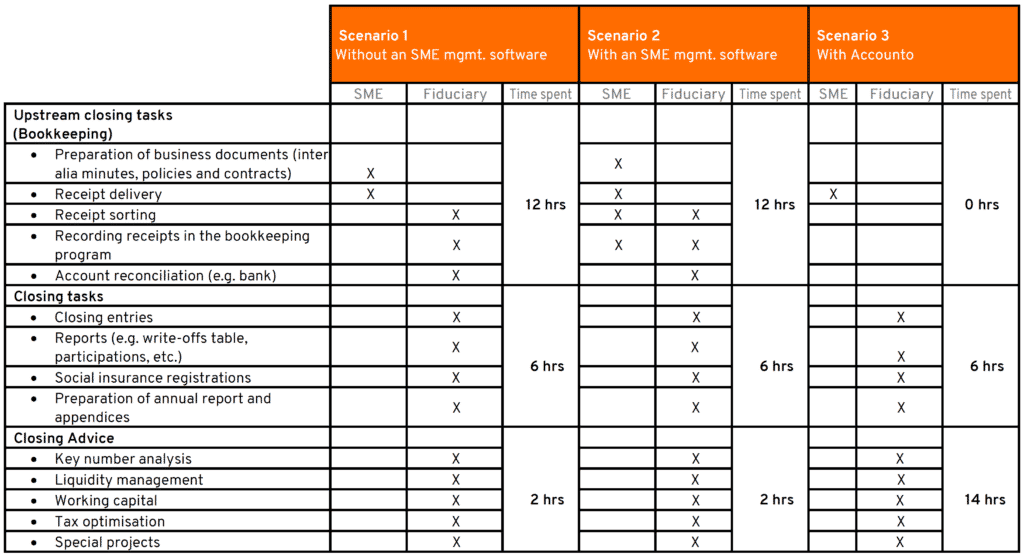 As can be seen from the above comparison, Accounto, compared to conventional solutions, primarily eliminates the backbreaking accounting work – upstream closing work. This allows you to use your technical expertise where it makes sense: in individual customer advisory services.
At the same time, SMEs benefit from having an external CFO, with their effort reduced to an absolute minimum. Important here: The SME still pays the same amount for the fiduciary service. In the long term, however, the SME benefits not only from cost optimisation but also from a sparring partner for all business management issues.
Enjoy the new year now with Accounto
Would you like to surprise your clients with first-class services at the turn of the year? Then get to know Accounto now without obligation and ensure a guaranteed more relaxed busy season for the future.