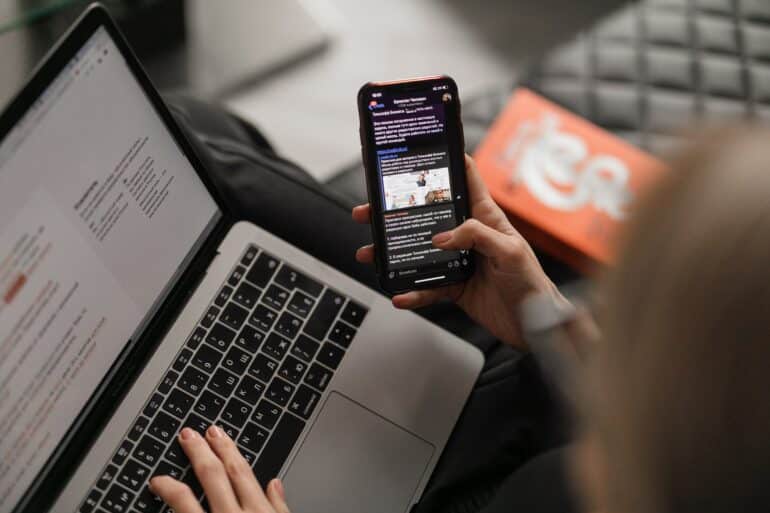 E-mail has been around for 50 years, which makes this channel of communication an old technology in the digital world. With the increasing popularity of messaging services and social media, you might think that the importance of email is diminishing. However, studies show that over 80 percent of people prefer e-mail as a means of communication, at least in business. This makes this channel an exciting marketing tool for fiduciary companies too. Indeed, e-mail traffic has increased massively in recent years and, accordingly, we receive hundreds of e-mails every day.
So how can you create a fiduciary newsletter that stands out and therefore does not immediately end up in the wastebasket?
Before we get into the details, you should first ask yourself the following question: What do I want to achieve with my newsletter? It should also be clear to you that it makes no sense to start a newsletter without contacts (leads). However, if you already have some contact data or leads, a newsletter is a great way to cultivate contacts and relationships.
The purpose of a newsletter: to arouse interest
Fiduciary companies have a long sales cycle. SMEs often only hire a fiduciary when there is a crisis. This is true when it comes to complex accounting processes (e.g. annual financial statements or tax returns). The barrier to changing an existing fiduciary is also very high.
In both cases, it takes months for your leads to convert to customers. And that's where newsletters come in.
Newsletters are a way to repeatedly draw attention to your company – until your lead is finally ready to make a decision. They are also a good tool for strengthening the bond with your existing customers.
In this blog, we have put together 10 tips to help you create a distinctive fiduciary newsletter despite a small budget and limited time.
1. Find newsletter topics easily
You are probably thinking to yourself right now that a fiduciary newsletter is a great thing. If only you didn't have to spend so much time and effort on creating and writing articles. But it doesn't have to be like that at all.
You can easily create newsletter content using curated (borrowed) content that appeals to your customers and prospects. An example could be content from industry associations like TREUHAND|SUISSE or EXPERTsuisse. The NEWS|FLASH, in which industry-related content is published, can also be a valuable source for newsletter texts.
EXPERTsuisse also issues various publications with interesting content for its subscribers several times a year. Everyday accounting problems, such as information on VAT deadlines or their extension or tips on the annual financial statements, are another source of inspiration.
2. Write content with minimal effort
When it comes to content, the key is to write the text in a way that is as interesting and as understandable as possible. As mentioned in item 1, you can curate content. Look for online articles that are relevant to your customers and prospects and summarize them. To give the topic additional weight you can also express your own personal thoughts. Add a link to the original articles to your summary so that your newsletter subscribers can also read the original text.
Additional tip on how to curate content:
When you find interesting articles, copy the links into the draft of your newsletter. Read each article and summarize what the piece is about in two or three sentences. Before sending out the newsletter, you can read through the collected articles and your respective summary and delete the irrelevant content.
Additional tip for self-written content:
If you write a text on a topic of your own choice, be sure to link to your personal blog in the newsletter. Your blog gives you the opportunity to go into more detail on a topic. As you know, a newsletter should be short and sweet (cf. item 7).
3. Create a high-quality newsletter distribution list
Build a newsletter pool
Do not buy e-mail addresses! Bought-in e-mail addresses are often incorrect and outdated. Besides, most of the contacts are probably not interested in your newsletter anyway. In addition, spam filters are extremely sophisticated nowadays and automatically block unwanted e-mails.
Buying e-mail addresses also contradicts the General Data Protection Regulation (GDPR), which states that recipients must give their explicit consent before a newsletter is sent.
Although building a newsletter pool with your existing contacts is a slow process, it is certainly the safe and the right way to proceed. So send your customers and prospects a personal e-mail asking if they would like to receive your newsletter. Add those who are interested to your database.
In addition to your existing contacts, you can invite potential prospects to your newsletter through other channels. For example, you can publish a sign up form on the website or include a link to sign up in your e-mail signature and social media. You will soon see how easy it is to increase your newsletter pool.
Segment contacts
Once you have your initial signups, you need to segment the contacts. People are known to respond better when communications are personalized and content is relevant to them.
Don't make too much work for yourself at the beginning. Start with two groups and divide your contacts into prospects and existing customers. You can then create different newsletter content for these two groups. After a certain time, you can decide whether you want to differentiate your contacts even more and divide them into company size or industry category. But again, keep it as simple as possible. Creating different newsletter content and maintaining the different mailing lists can be tedious.
4. Create a convincing sender line
The sender line is the first impression of your newsletter. It consists of a sender name, the subject line and a preheader.
Use your own company name as your sender. Your company name creates trust and recognition among your contacts. It is best to combine the company name with your first name and surname. With a personal contact, you establish an emotional relationship and can strengthen customer loyalty at the same time.
Your subject line should be short, informative and reflect the content of your newsletter. Creativity is needed here. If the subject line is worded inappropriately, the newsletter will quickly end up in the wastebasket. Also, avoid generic titles like "Newsletter No. 2" and use language that is easy to understand. We recommend using a maximum of 50 characters for the subject line. This means that the newsletter will be displayed in full in the desktop view, as well as on smart phones and tablets.
The preheader, i.e. the preview text of your newsletter, can be seen as an extension of your subject line. This preview text should not be underestimated because it contributes greatly to the success of your newsletter. The preheader should reveal initial information about the newsletter content and arouse the curiosity of the audience.
5. Write texts that are neutral and personal
Do not write a sales newsletter. So as not to scare off your contacts, you should keep sales incentives to a minimum. However, you can still include CTAs (Calls to Action). Do you want your customers to view a specific article or company web page? Link to the corresponding article and include a CTA.
The personal salutation is a suitable place to establish a relationship of trust with your contacts. Therefore, make sure that you know the first name and surname of each contact in your mailing list.
6. Create an attractive, well-structured newsletter
Nowadays, newsletters can be designed in many different ways. After all, we read with our eyes! Therefore, a well-structured and attractively designed newsletter is an important component for success.
Use graphic elements such as headings and separators to ensure a clean structure. It is also recommended to include images in the newsletter. Images attract more attention and can further emphasize the importance of a topic. You can also use emojis to give your newsletter a personal touch. Emojis are suitable for the subject line as well, which keeps it short and concise.
7. Pay attention to the length of your newsletter
The secret is to keep it brief. Newsletter recipients are reluctant to read long texts. Limit your fiduciary newsletter to 2-3 articles. This has two advantages: You can create newsletter content faster and send it out more regularly. But what is even more important: The recipients respond better to the newsletter. Your contacts will read the newsletter if they remember that your content is short and to the point, yet still interesting.
8. Proofreading, proofreading, proofreading
A very important point! Write the content for your newsletter, put the draft to one side, and review the copy before sending it out. Send your newsletter to a work colleague in advance. Two heads are better than one.
9. Define the mailing frequency and choose the right time to send the newsletter
A good rule of thumb is to send a newsletter every 2-3 weeks. But be realistic about the timing and focus on a certain frequency. For your subscribers to get used to the newsletter, the main factor is regularity. Of course, you can adjust the timing for important messages.
The ideal time to send your newsletter depends on a number of factors. First of all, your target group needs time to read your content. When planning, therefore, you should take account of the professional activity and everyday life of your customers and prospects. In the B2B sector, mornings on normal working days are the obvious choice. Experience has shown that Tuesday and Thursday are the best days of the week.
10. Measure the results
The effectiveness of e-mail marketing can easily be measured using various tools. For example, you can quickly track who opened the e-mail (open rate) and who clicked the links (click rate). With these metrics, you can soon determine whether your contacts engaged with the content or not. If they didn't, you can react quickly and try other topics or subject lines, for example.
Start your fiduciary newsletter now
With our 10 tips, you now know how to create a successful fiduciary newsletter (at least in theory). However, as the saying goes: Practice makes perfect. Try a few of our tips and continuously improve your newsletter. You will soon see that a fiduciary newsletter is a great way to attract and retain SMEs.
Do you have any other tips or questions about your own newsletter? We look forward to hearing from you!