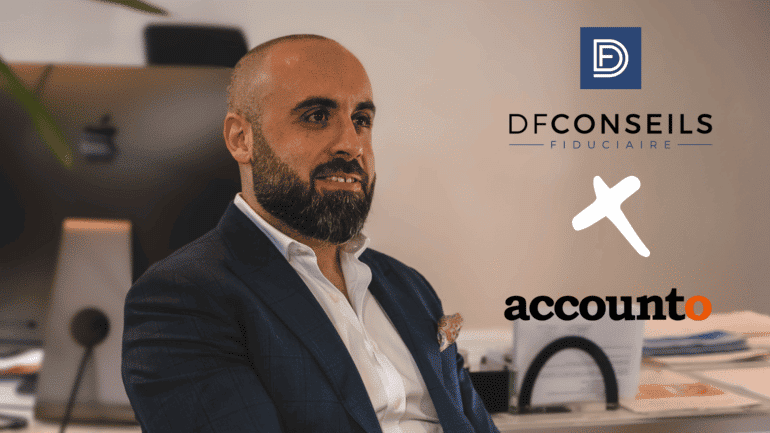 Paper, stationery and bound books. This is what everyday life in a trust company used to look like. Today, digital and connected also sets the tone in the fiduciary industry. Although technological progress has simplified many tasks for fiduciary companies and SMEs, the management of mandate accounting is still associated with countless empty runs. Young accountant Fabio Dacuña shows how this can be changed.
For thousands of years, people have meticulously kept books in order to gain an overview of their own financial situation. The first professional accounting system dates back to 9,000 BC. Even in those times, the increasing exchange and trade of goods meant that it was necessary for merchants to control their own inventory of goods and identify any surpluses or deficits. They also had to record their own taxes, debts and ownership circumstances in some form. Since paper and writing materials did not exist at that time, our ancestors resorted to stone slabs for this purpose. The merchants painstakingly chiselled every single transaction in stone. Compared to this physically demanding procedure, working with a conventional accounting program seems like child's play. However, if you take a closer look, you will soon see that the process logic has not changed since the Stone Age.
Even in 2021, receipt data (e.g. invoice information) is still recorded manually and then entered in the accounting software. Accordingly, routine accounting tasks still tie up a great deal of time and financial resources for SMEs and fiduciary offices.
In recent years, many accounting solutions have attempted to transfer routine accounting work from fiduciary companies to small businesses. However, since the booking processes are still carried out manually, receipts now simply pile up at the SMEs. The result? Lost evenings and weekends for many business owners spent typing in invoices and the like. It is also not uncommon for small errors to creep in, which can then only be corrected by fiduciary specialists. As a result, the cost savings achieved quickly melt away.
In summary: Until now, no accounting software has managed to completely free both SMEs and fiduciary companies from monotonous bookkeeping activities. Thanks to cutting-edge machine learning technology, Accounto now offers a solution.
The intelligent accounting software reads all documents (including incoming invoices, contracts and insurance policies) and immediately takes care of the correct booking – fully automated and with zero manual intervention. For fiduciary companies, this opens up unprecedented opportunities to innovate their own business model while optimizing the customer experience for SMEs at the same time. Fabio Dacuña has recognized the potential. At DF Conseils Fiduciaire SA, Fabio and his team of three offer a digital yet extremely personal fiduciary service.
When Fabio founded his own fiduciary company in 2020, it was clear to him: "In the future, SMEs won't pay any more money for simply typing in customer receipts. Many small business owners see accounting as a necessary evil, which is why they want to reduce costs there. In this segment, customers spend financial resources on those services that actually result in added value for their own company." For this reason, Fabio was looking for targeted ways in which DF Conseils could reduce the effort involved in repetitive bookkeeping. According to Fabio, Accounto combines all the strengths of conventional accounting software in one product. "Personally, though, the fully automated accounting is definitely what stands out for me. It means that neither my team nor our SME customers have to deal with boring accounting tasks. This makes everyday life much easier for us all."
With the time saved, Fabio and his team can focus even more on individual customer concerns and create unique customer experiences. "Thanks to Accounto, we actually have more time to solve the business and financial challenges of the SMEs we serve. Our customers greatly value this proactive and extremely close support." In Geneva, word is getting around about the excellent work of DF Conseils. Every week, Fabio and his team welcome new customers and introduce them to the Accounto accounting platform: "In my opinion, today there are no good reasons why managers of small companies still type in invoices. Technology can do this much more efficiently and even more cost-effectively."
"Anyone who still types their invoices manually today is doing it wrong. No matter whether SME or fiduciary."

(Fabio Dacuña, Trustee and Founder of DF Conseils Fiduciaire SA)
In the coming months, Fabio would like to see further growth in his customer base, so that soon there will be no SMEs in Geneva that worry about accounting issues. Fabio does not believe that the fear of cloud solutions or platforms will get in the way of expansion plans. "Naturally, there are always questions about whether the customer's data is sufficiently protected at Accounto. Some SMEs also want to know where Accounto stores the data. I take these issues very seriously, of course. With Accounto, however, I know that all data is backed up in a Swiss tier 3 computer centre. This corresponds to an above-average, high security standard and ensures the availability of the accounting data to a level of 99.98%." In the fiduciary industry, especially, the topic of "data security" should continue to play an important role in the future. In accounting, in particular, there is a great deal of sensitive data, the protection of which must be given top priority. Accounto is aware of this and takes every precaution in order to reduce cyber-attacks and other virtual threats to an absolute minimum.