FOR SMEs
Save time and focus on the things that matter for your business.
Let accounto do the work for you:
Receipts on hand at all times
Audit-proof storage
Intelligent full text search
Why SMEs love using accounto
Escape from paperwork.
Emphazising individual Consulting
You have more important things to do than dealing with repetitive accounting tasks. That is why accounto gives you time. You are able to focus on your core business and your advisor takes care of all administrative matters.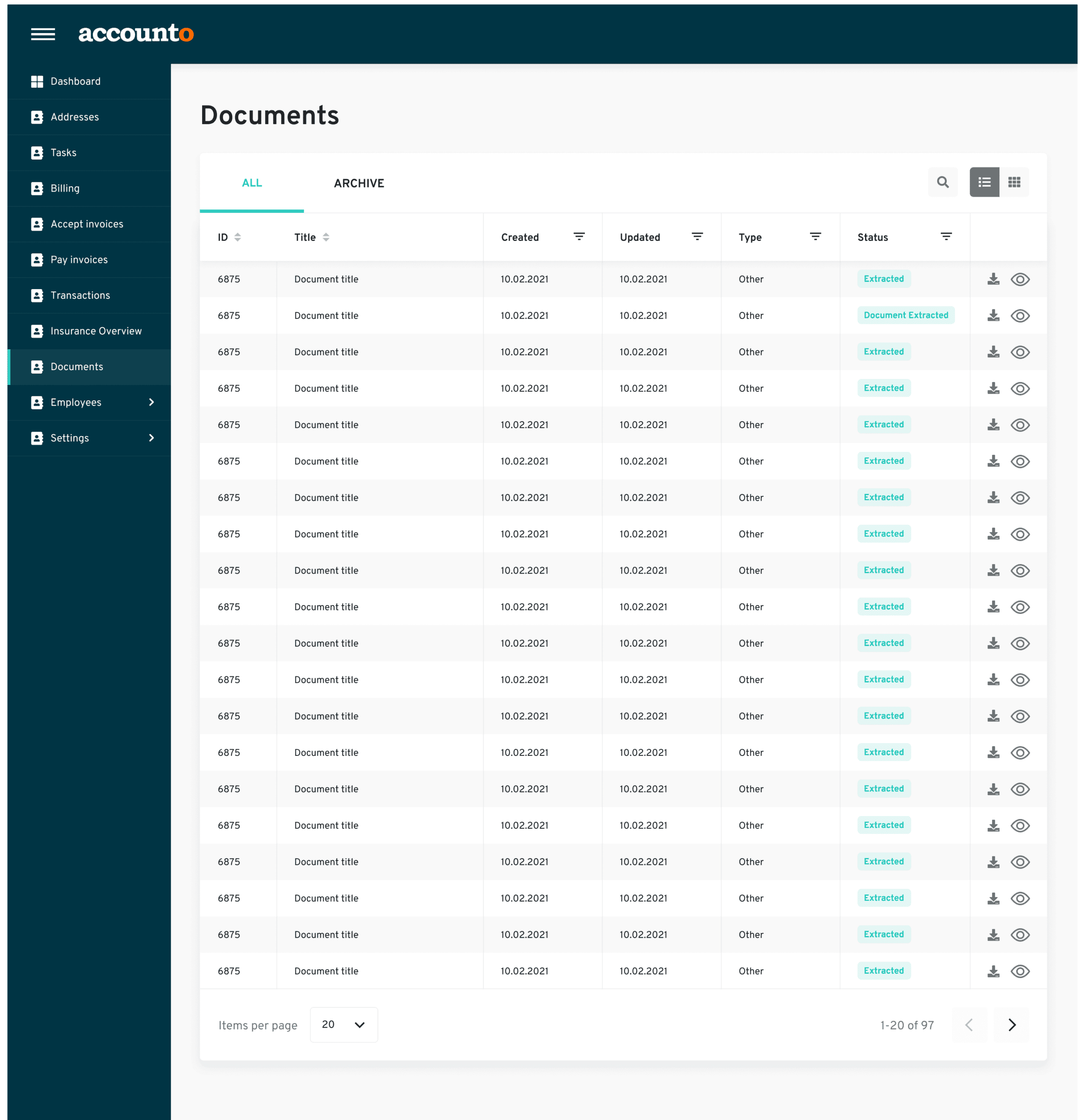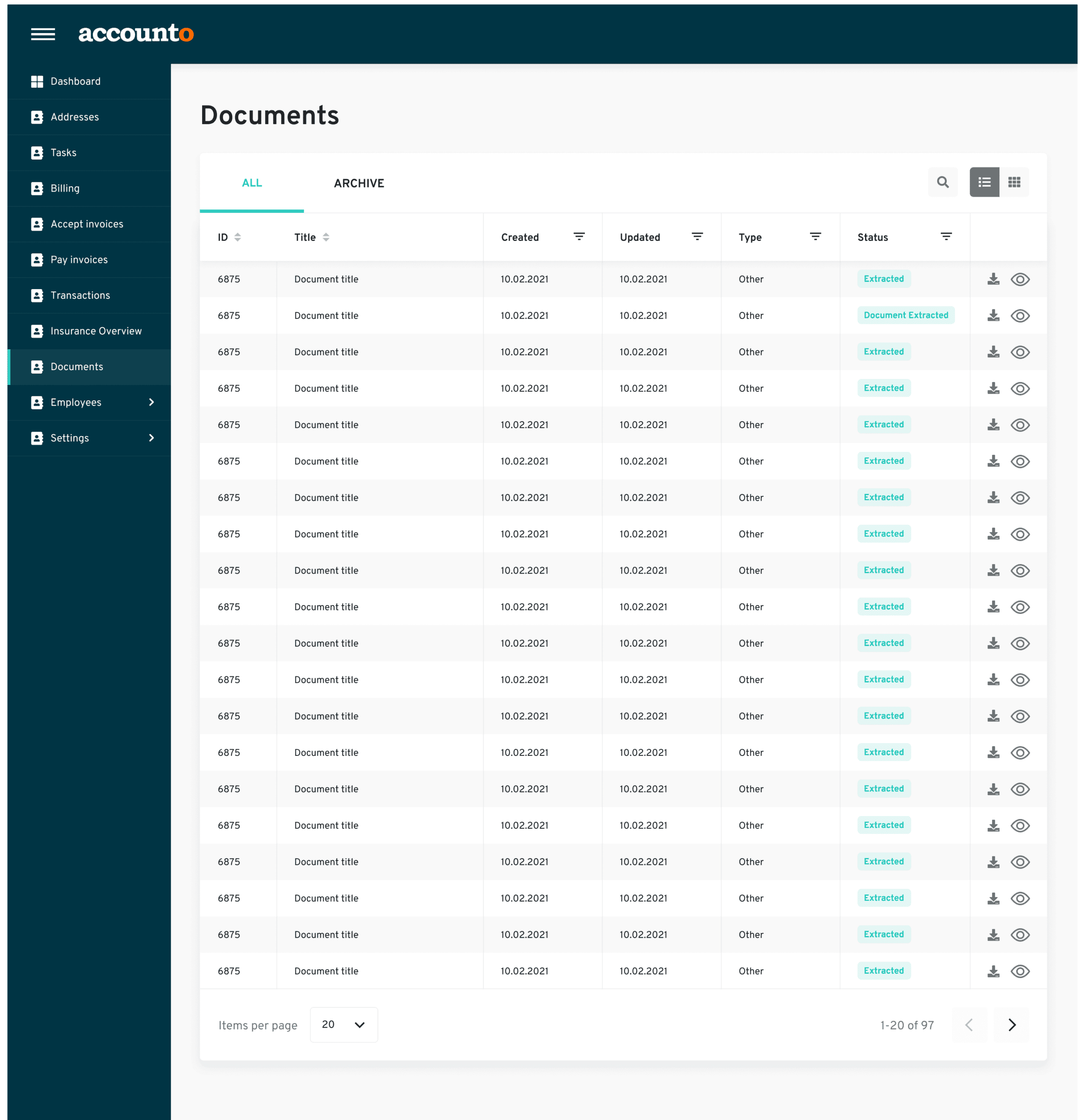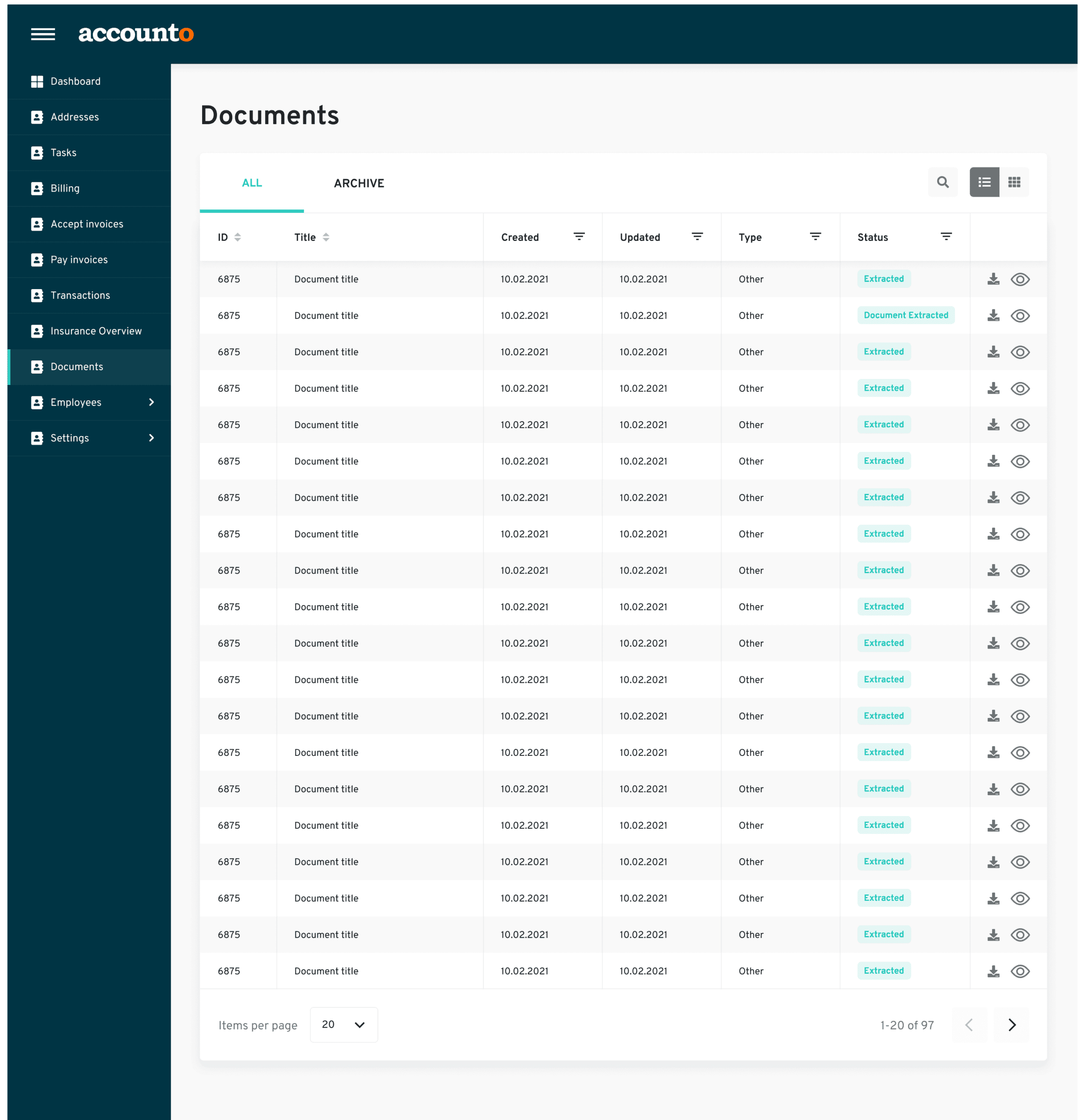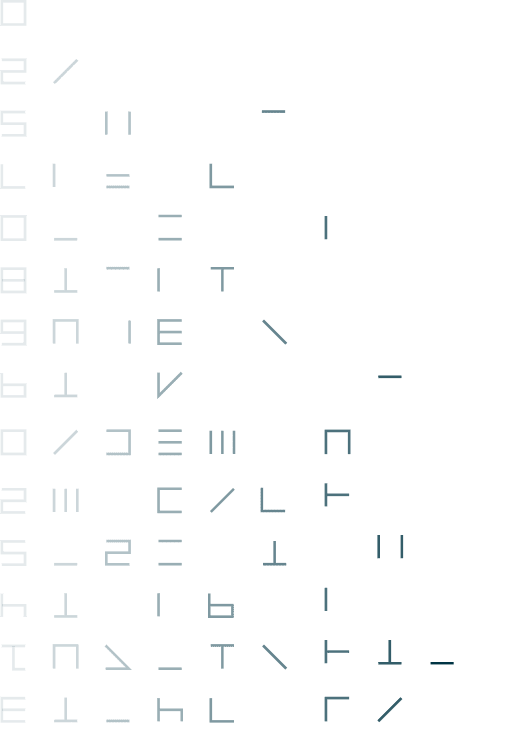 Digital document processing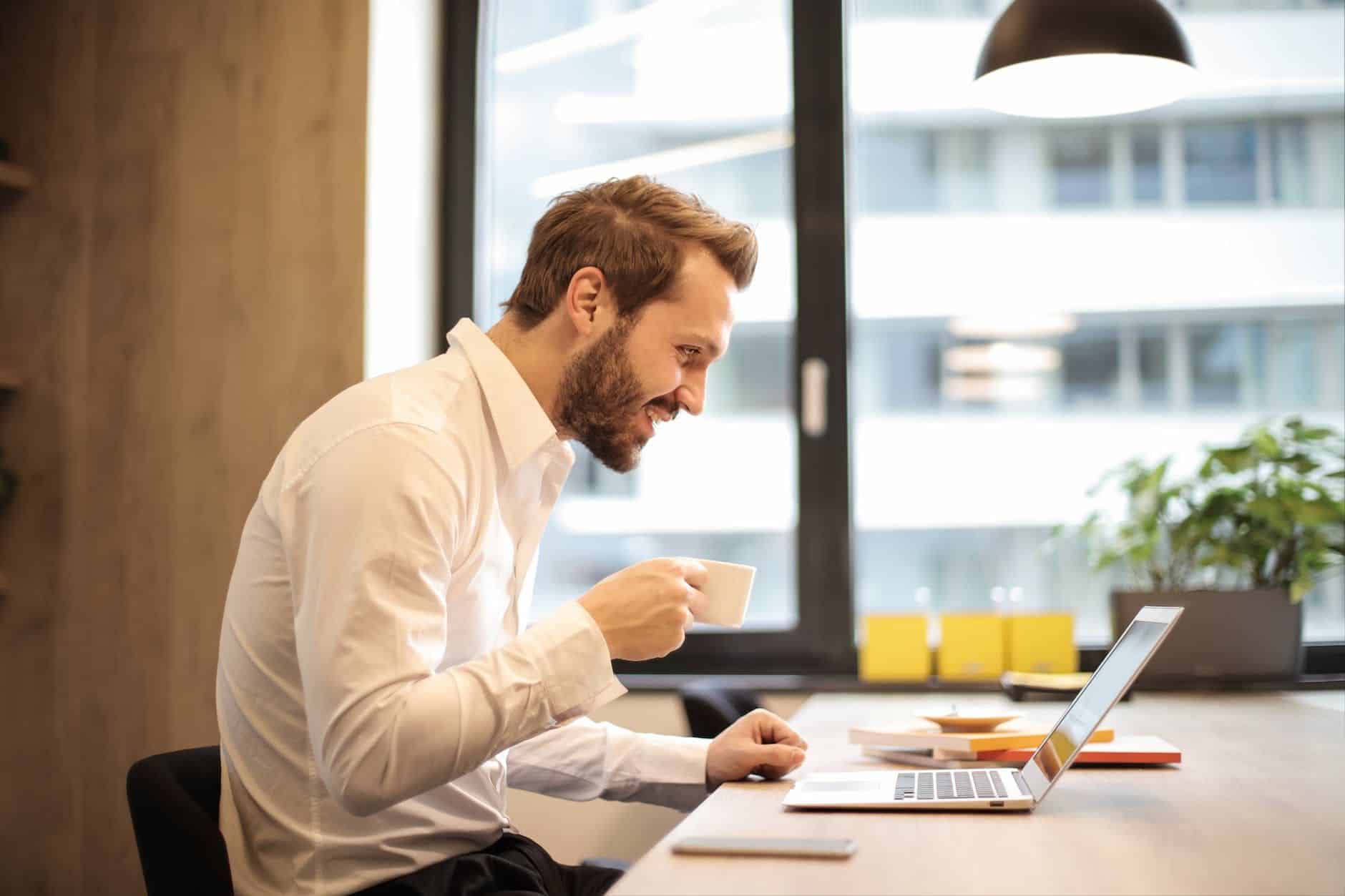 Cooperate with your advisor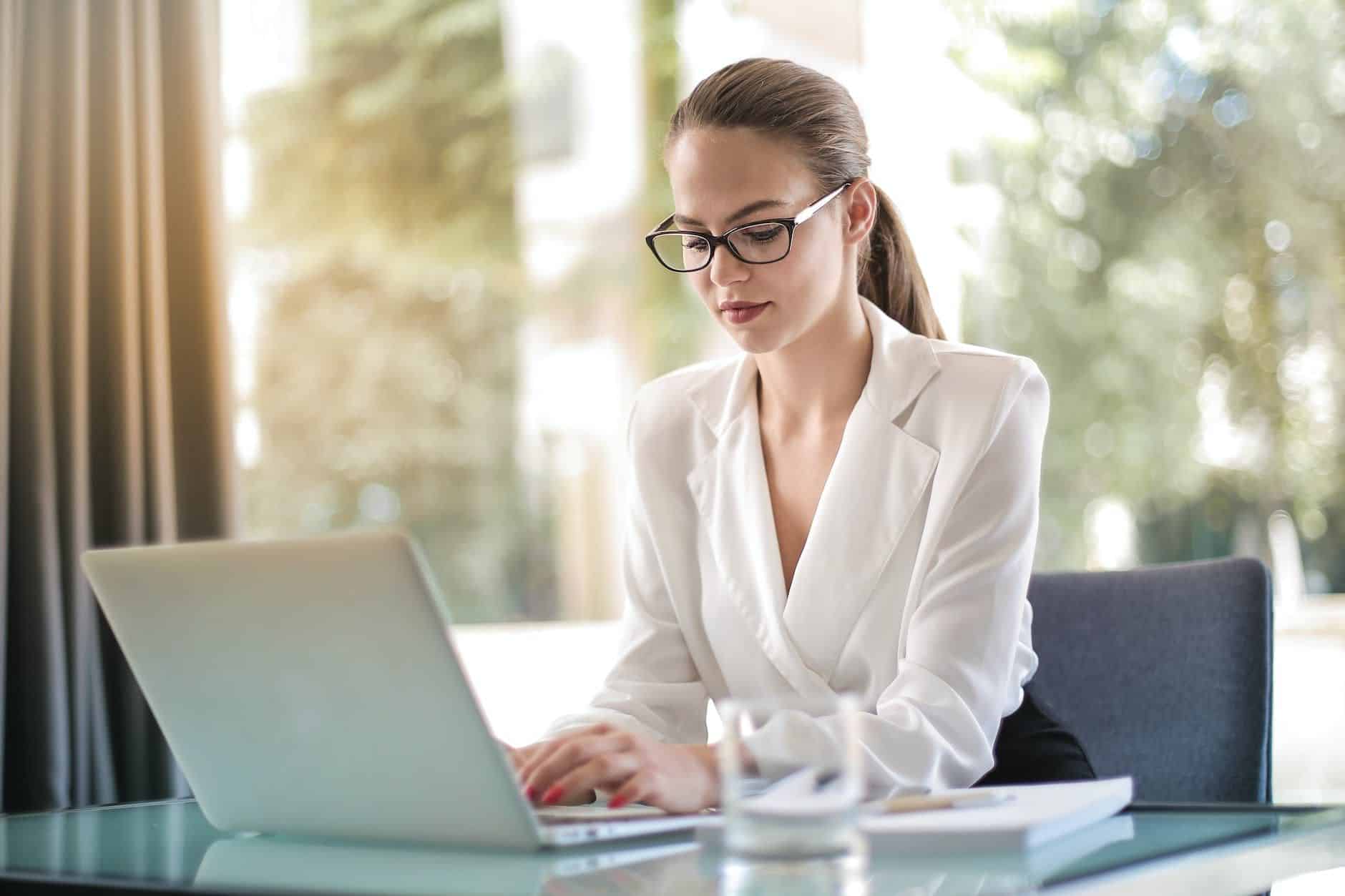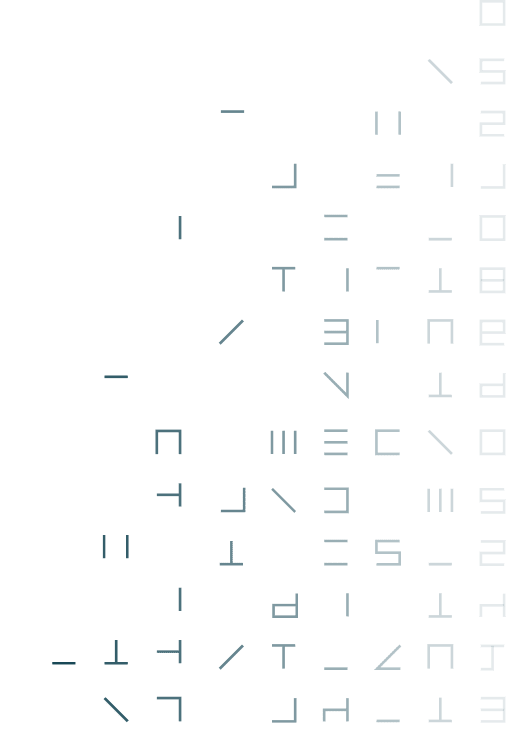 What SMEs have to say about Accounto




Miro Hegnauer, CEO Konova
"You can start small, but scale the solution over time to the needs that automatically grow in a start up!"
Co-Founder, 12Ahead GmbH
"As a full-service digital agency, a 100% digital accounting solution was extremely important to us"
Johannes Lermann, COO & Co-Founder, Boostbar AG
"Thanks to Accounto and our trustee, we can concentrate fully on Boostbar."
Co-Founder, Reverse
"All communication takes place via the platform, i.e. via the Accounto app. This means no tedious ping-pong messages via email and long waiting times on the phone."
The accounto pricing model
Accounting Platform
Great as a starter
Accounting Platform
Perfect for automation
Select option
Diese Datenpakete sind zeitlich unlimitiert.
Onboardingpaket
Optimal Start
Frequently asked questions
Accounto relies on the SaaS approach.
Accounto uses the SaaS approach (Software as a Service), which can be classified as cloud computing. With SaaS, users no longer have to install the provided software locally, but can access it directly via internet browser.
With SaaS, there are no installation costs or licence fees. Consequently, with Accounto you can add employees quickly and easily without incurring any costs. If you need more users, simply contact us – we will be happy to advise you.
Another great advantage of SaaS products is that changes or new functionalities to the product can be integrated quickly and you always benefit immediately from the latest updates.
SMEs with 1-19 employees.
Accounto is also suitable for SMEs that only require financial statements in accordance with the Swiss Code of Obligations.
Currently, the focus is on a start-up module.
Accounto is constantly being further developed, and you can also actively contribute any wishes you may have. In addition to the business start-up module, Accounto is planning the integration of digital notary services or legal advice as the next big step. To make sure you don't miss any updates, simply subscribe to our newsletter.
Accounto works with a Swiss cloud solution.
Thus, the data is kept in Switzerland and secured in a Tier 3 data centre, which corresponds to a high security standard. A Tier 3 data centre has several paths for power supply and cooling, as well as systems for updating and maintenance work that can be carried out during operation. The expected availability is 99.98%.
Each business pays a monthly fee.
The support and support agreement is defined based on your needs and charged accordingly as a flat rate.