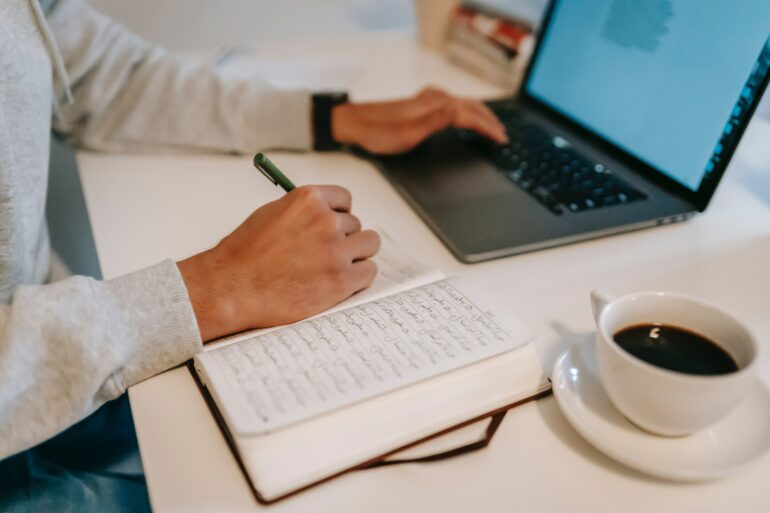 Slack, Monday, Trello, Confluence and Jira: There are numerous digital tools to organise tasks in the team. What requirements do collaboration tools for fiduciary companies have to fulfil? What do you have to pay attention to when using these solutions? In this blog post, you will find an overview of the most popular work organisation software solutions and get tips on how to find the right tool for your fiduciary company.
Who made the account allocations for the new clients? When was the last incoming invoice reconciled to the bank account? What data has already been extracted from the documents? What else do you need to check manually and add if necessary? Who in your team is currently working on the interim financial statements of client X? Digital tools for work organisation make communication with your employees more efficient, facilitate the distribution of tasks and enable the tracking of work progress.
Digital tools for organising work also simplify cooperation in hybrid teams, which do some of their work in the office, at customers' premises, in the home office or at another workplace of their choice. This is also becoming increasingly important for fiduciary companies: For many digital natives (currently a large part of the fiduciary professionals on the labour market), flexible working hours and the possibility of remote working is an aspect of the choice of employers that should not be neglected. At the same time, due to the shortage of skilled workers in the fiduciary sector, more and more fiduciary companies are recruiting fiduciaries who live further away and who do not want to or cannot commute to the office every day. New tech solutions help teams work together constructively at all times – even when not all team members are always in the same place.
Reading Tip: In this blog post, you will find tips on how fiduciary company leaders successfully manage remote teams.
These are the advantages and disadvantages of digital tools for work organisation
The best-known collaboration tools include Slack, Monday, Trello, Confluence and Jira. In the following, we briefly discuss the most important advantages and disadvantages of these solutions.
Slack is used by companies of all sizes primarily for communication. The communication tool is designed to reduce the number of internal emails, but you can also invite your customers to selected Slack channels and exchange information with them. For hybrid teams, it is advisable to open an informal Slack channel. There, employees can exchange ideas without obligation. Although Slack lets you set up automatic reminders, create shortcuts to Google Drive and has a good search function across all shared files and documents, Slack is not enough to organise work in fiduciary companies.
Monday allows you to create personalised templates for your projects and processes. Organise and prioritise tasks with Monday and get an overview of who is currently working on what. If you lead a larger team (partly remotely), Monday can help you not to lose the overview.
With Trello, you can also digitise your to-do lists, assign tasks to employees and track the progress of individual tasks using checklists. Record tasks on cards that can be moved with a mouse click and assigned to other employees, for example. Trello helps both with the organisation of work in teams and with self-organisation.
Confluence is a wiki software that most companies use primarily for communication and knowledge sharing. On Confluence you can, for example, store guidelines for communication with customers or templates for letters. You can edit the content on Confluence directly in the web browser.
Like Confluence, Jira comes from Atlassian, but is used more for operational project management. With Jira, you can map entire workflows and break them down into individual steps. This allows you to get an overview of the ongoing projects at any time. Jira initially enjoyed great popularity in software development, but the project management tool is now also being used increasingly in other sectors.
In addition to these five digital tools for work organisation, there are numerous other software solutions on the market that make partial aspects of your work easier. Note, however: The more solutions you use in your fiduciary, the more licence and usage fees you have to pay. The basic versions of most collaboration tools are free, but in a professional context, upgrades are often required for a fee.
Attention: In times of data leaks and data theft, you should know where your data is stored. Many international collaboration tool providers are headquartered in the US, where access to corporate data is possible without judicial oversight through the Patriot Act. In Switzerland, however, this is not allowed.
Conclusion: No traditional collaboration tool meets all the needs of fiduciary companies
The most popular digital tools for organising work cover many areas of your daily work, from exchanges with employees and clients to task distribution and project management. However, none of the tools presented above were developed for fiduciary companies and this is noticeable in everyday work. Only a modern Fiduciary software like Accounto can simultaneously relieve you of repetitive tasks, offer a stable infrastructure for the development of innovative services, improve mandate management and the relationship with your clients, provide an overview of all projects in the shortest possible time and organise cooperation within your team.
Extra Tip: When you take into account the licence fees for the previous tools and the labour hours saved, fully automated fiduciary software is often worthwhile even for smaller fiduciary companies.
Experience in a free demo how you can greatly simplify the work organisation in your fiduciary company with the Swiss fiduciary software Accounto.