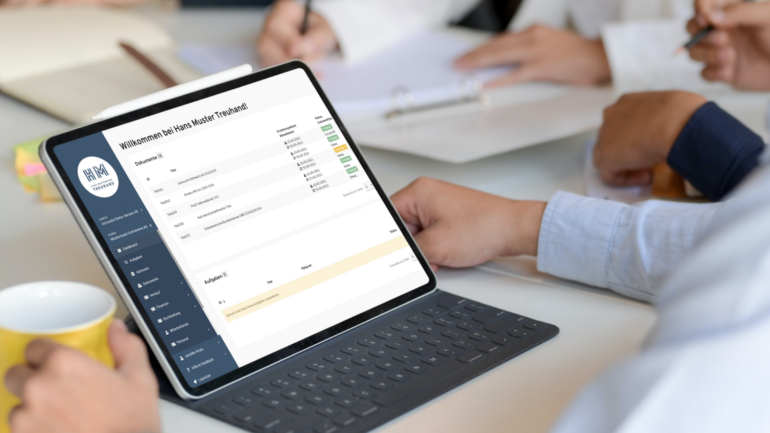 White label products are becoming increasingly popular in the B2B sector. Fiduciary companies can also use white labelling to their advantage: With proven accounting or fiduciary software that comes in your branding, you can, among other things, make the collaboration with your clients more effective and efficient. In this blog post you will learn what you should look for when choosing a white label solution.
According to the IT trade journal "IT-Business", white labelling is a term for products and increasingly also for services "that are not marketed by a manufacturing company under the actual core brand, but have the same quality characteristics as the original". While white labelling was long practised primarily in the B2C sector, it now occurs in almost all industries. One of the main advantages of white labelling is that a single company does not have to go through the entire process of manufacturing and selling a product. The work is divided between two or more companies.
In the services sector, white labelling is predominantly found online, according to US marketing software company Hubspot. Tech companies, for example, offer an unbranded web interface or app that the buying company can design according to its own ideas and corporate design. This approach is also conceivable in the fiduciary industry: White labelling of accounting or fiduciary software enables fiduciary companies to use product trends to strengthen their brand and open up new business areas.
Checklist: These 7 requirements should be met by accounting or fiduciary software with a white label
Fiduciary software helps fiduciary companies to optimise processes, meet the needs of today's and tomorrow's fiduciary clients and expand their range of services. White labelling also allows you to introduce these innovations under your own logo and thus strengthen your brand.
When choosing a white label accounting tool or fiduciary software with the option of white labelling, you should ask yourself which solution you want to use to fundamentally transform the way you work with your clients. The tool you choose reflects the values of your fiduciary company – even more so if it comes with your logo and in your corporate design. Below you will find a checklist of what you should look for in an accounting or fiduciary software with a white label.
User-friendliness: User-friendliness should be one of the most important criteria when choosing an accounting or fiduciary software, not only for a white-label solution. Can the tool be used intuitively or does it require a longer training period? Is it easy to use even for users without in-depth computer knowledge? How complex is it to add new users? Test the software extensively before implementing it company-wide.
Increasing efficiency: Closely related to the point of user-friendliness is the time factor. Accounting or fiduciary software should relieve you and your team as well as your clients of as many repetitive tasks as possible. This allows you to focus more on your core business. During the test phase, try to find out how much time you can save per work step. With the Swiss fiduciary software Accounto, for example, document processing is done automatically, so that you and your team only have to perform a few control tasks.
Availability: Your accounting or fiduciary software must function stably. Availability is calculated from the ratio of downtimes and the runtime of a system. You can see how reliably available the data centre is in which software solutions are hosted by means of tiers. Tier 3 is the most common standard when it comes to data centre availability. A Tier 3 data centre has multiple paths for power and cooling, as well as systems for upgrades and maintenance that can be performed on the fly. The expected availability of Tier 3 data centres is 99.98 per cent.
Data location in Switzerland: Many international accounting software and fiduciary software providers have their headquarters in the USA, where access to company data is possible without judicial control by means of the Patriot Act. In Switzerland, on the other hand, this is not permitted. Therefore, opt for a solution that is completely hosted in Switzerland and explicitly ask where your valuable data is stored.
IT contingency planning: What happens to the data or work progress stored on your accounting or fiduciary software in the event of a hacker attack, flood or major fire? Be sure to clarify who is responsible for IT contingency planning. Preferably work with a software provider who can create an IT emergency plan for your trust company and take care of cyber security measures.
Support and communication: Check with the accounting or trust software provider about your support options and the communication channels used. Who can you contact if you have a problem? When are the support staff available to you? How does the provider inform you about maintenance windows, planned outages or new features? Service Level Agreements (SLA) with your fiduciary software provider should include software-specific information such as average availability, how to deal with any downtimes or bugs, as well as the support level including working hours and communication channels.
Innovation potential: With the advancing digitalisation of the fiduciary industry, the ability to innovate has become an important differentiator for fiduciary companies. In the future, only those trust companies that offer their target group recognisable added value in the form of customised new services will survive. This requires the courage to innovate. With a white label solution, you can transform the way you work with your clients through a tool you trust, and show potential and existing clients how your trust is taking advantage of innovative technologies.
With Accounto Whitelabel, trust companies can now use proven trust software from Switzerland with their own branding. Find out in a no-obligation consultation how your trust company can work more efficiently and strengthen its brand with Accounto Whitelabel.