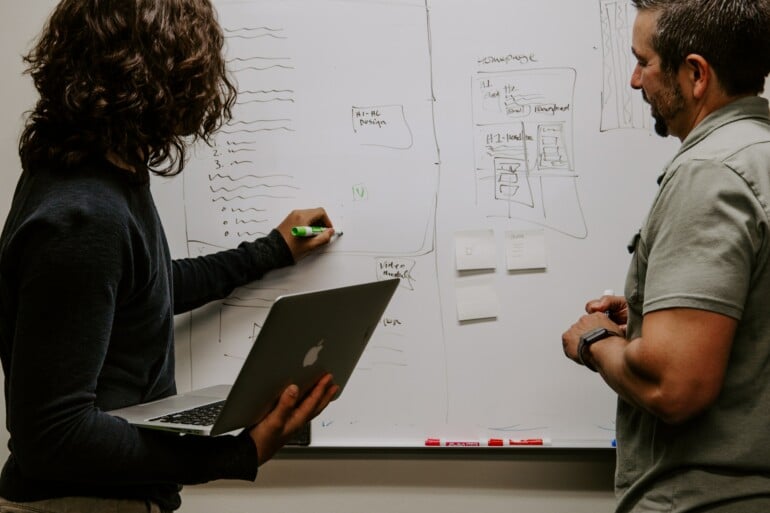 Process optimisation allows trust companies to work more effectively and efficiently. Hundreds of trust companies are therefore digitising and optimising their processes this year. In this blog post you will find five reasons you should start your process optimisation journey in your trust company.
With new business models, forms of collaboration and technologies, digitalisation is opening up more opportunities for process optimisation in the trust sector than ever before. As part of the digital transformation, numerous trust companies at home and abroad have already started to digitalise and optimise their processes. What advantages do process optimisations bring in practice? Find out here why you should also optimise the processes in your trust company.
Reading tip: In this blog post you will get an overview of the most important principles of process optimisation in trust companies.
Reason 1: The work of trustees is shifting
The fiduciary sector is in a state of flux, and this is also changing the way fiduciaries work and their role. According to a study by Treuhand Suisse and Accounto, instead of carrying out routine tasks, the focus is increasingly on building on strengths and competitive advantages and deepening the relationship with clients. Routine work with high automation potential no longer represents a major benefit for many SMEs. Thanks to a high degree of automation, fully automated accounting systems handle many tasks faster and more cost-effectively than fiduciaries. However, the advancing digitalisation and the emergence of software solutions for the automation of accounting tasks do not ultimately mean the elimination of work for fiduciary companies, but rather a shift. Fiduciary companies remain the central point of contact for all business and financial concerns of the companies they serve. With optimised processes, you can save valuable working hours and concentrate on what generates recognisable added value for your clients.
Reason 2: With process optimisations, fiduciary companies can eliminate inefficiencies
In view of the continuing shortage of skilled workers in the fiduciary sector, the weak economic forecast for the coming quarters and inflation in many parts of Europe, efficiency plays a central role in the fiduciary sector today. The aim of process optimisations is to increase efficiency and simplify existing work processes. Try to use optimisations to eliminate unnecessary intermediate steps and reduce the complexity of your work processes whenever possible. For example, analyse whether new technologies can relieve you of tasks or how you can simplify the cooperation with your clients and the delivery of documents.
Reason 3: Optimised processes enable competent and committed employees to contribute and develop
According to the international consulting firm Mercer, the meaningfulness of work has become a decisive factor for employees of generations Y and Z when looking for a job. Thus, meaningful work content is also a central aspect of employee retention for companies. However, if digital natives have to deal with software breaks, manual data entry and only partially digitised solutions, this causes frustration. Handling unchallenging and hardly meaningful tasks such as running after receipts for the interim or annual financial statements does not satisfy eager and committed fiduciaries in the long run. Optimised processes help your employees to develop and grow. It is beneficial for the motivation and willingness to perform of many employees if they can make a difference in the workplace. If you can offer fiduciary talent meaningful tasks, this will help you to retain skilled workers who are struggling in the labour market.
Reason 4: Partially digitised processes and software breaches are a gateway for cybercrime
The times when cyber attacks primarily affected large corporations and international organisations are over. SMEs are also increasingly being targeted by cyber criminals. Fiduciary companies are currently particularly at risk of losing valuable data in hacker attacks. Many fiduciary companies have linked their document management system (DMS) with accounting software through an interface. This allows the two systems to communicate with each other. However, this poses security risks: Because DMSs are often not cloud-based, files stored in a DMS are not automatically stored and backed up in a cloud. Software breaks between digital and automated solutions make it more likely that files and data will be lost in the event of a hacker attack, system failure or loss of work equipment. One of the first steps in optimising processes in your trust company should be to detect and eliminate software breaks.
By the way, modern fiduciary software can significantly simplify data storage and data backup. With fiduciary software, all relevant data is stored on a secure platform to which only you and authorised employees have access. You define access rights so that you always have control over who can view and edit data. The fiduciary software provider normally takes all basic security measures, takes care of backups and creates an IT emergency plan (disaster recovery) so that no customer data is lost even in the case of perfidious hacker attacks or natural disasters.
Reason 5: Without process optimisation, fiduciary companies cannot fully exploit the potential of new technologies
New technologies are the focus of digital transformation in many industries. Whether in the financial, logistics or healthcare sector, in recent years numerous companies of all sizes have outsourced repetitive activities to software and gained competitive advantages through the resulting increase in productivity. Smart fiduciary software goes one step further: it enables fiduciary companies to work more efficiently, provide a productive working environment for their professionals, deepen client relationships and rejuvenate their business model. This allows fiduciary professionals to focus more on providing personalised advice to their clients and developing new services that will enable their fiduciary to continue to win over SMEs in the future. According to the above-mentioned study by Accounto and Treuhand Suisse, this is above all the expansion of their advisory services. Optimise the processes in your fiduciary company so that you can advise and support your SME clients in all financial matters in the future.
Experience in a free demo how you can optimise processes in your fiduciary company with the Swiss fiduciary software Accounto.