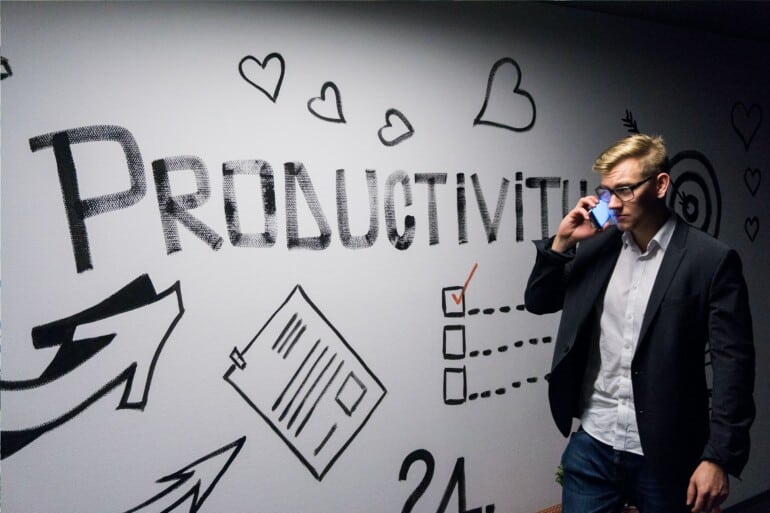 As long as inflation rates are high worldwide, efficient operation is all the more important. How can your fiduciary increase productivity? In this blog post, leaders of fiduciary companies learn what it takes to make their teamwork even more efficient.
With high inflation rates in large parts of the world and the resulting volatility in many markets, cost cutting in more and more SMEs and increased planning uncertainty, operating efficiently can give your fiduciary business an important competitive advantage. Here are four ways to overcome efficiency hurdles and increase productivity.
1. Eliminate weaknesses in your business processes
Who in your team is currently working on the interim financial statements of client X? How do you get an overview of the work progress on project Y in a brief time? What data has the document management system already extracted from documents for the annual financial statement of customer Z and what still needs to be done manually? From which clients are documents missing? Software disruptions, insufficient communication and only partially digitised processes complicate cooperation in many fiduciary teams.
To increase productivity and efficiency, the first thing you should do is examine your business processes for weaknesses. For example, if you have to chase receipts for financial statements, this is an indication that processes in your fiduciary are not working properly and you are working less efficiently than you could. Also, if projects stall during planned absences of individual employees, this can be an indication of inefficient business processes.
How can you make business processes in your fiduciary more efficient? Ask yourself how you can reduce dependencies and waiting times in your team. Consider whether the current division of labour still makes sense. Find ways for all team members to view project progress at any time. Introduce digital collaboration tools to improve cooperation and communication within the team and with your clients.
Reading Tip: In this blog post, you will find an overview of the most popular work organisation software solutions and get tips on how to find the right tool for your fiduciary.
2. Define customer strategy and exploit economies of scale
If your fiduciary company concentrates on mandates with similar process flows, the cost price decreases due to the economies of scale. In fiduciaries, the time spent per mandate represents the economy of scale. This allows fiduciaries to devote more time to looking after clients and acquiring new clients. With an increasing number of mandates thanks to the additional efforts in the area of client acquisition, your fixed and standby costs such as rent, wages and software licences are in turn spread over more projects. This reduces the costs per project and creates a so-called fixed cost digression.
Calculate the value of existing clients and prospects. You can ask yourself the following questions, among others:
For which mandates does our fiduciary company have the lowest fixed costs? And which projects have the highest fixed costs?
Are there mandates that are no longer financially worthwhile for us?
Where and how do economies of scale currently arise?
With which customers do we see opportunities for up- or cross-selling?
What are the average acquisition costs for new clients?
How much time do we invest in cultivating relationships?
What value do recommendations from customers have for us?
Based on your answers to the above questions, you should develop a Customer strategy and define one. Do customer segmentation before you start medium-term strategic planning. This means that you divide existing and potential customers into groups based on self-defined characteristics such as industry, company size, business model, legal form, or life cycle phase. Finally, determine which client segments your fiduciary can and wants to serve in the future. Focus on the most important customer segments – i.e. the most lucrative, exciting ones that match your expertise.
3. Exploiting the potential of new technologies and knowledge
Digitalisation does not stop at the fiduciary sector. This is often met with mixed feelings. Digital transformation is accompanied by major changes. Digitisation does not mean simply creating electronic versions of paper-based documents and related processes and processing them in a computer-based tool. On the contrary, digitalisation with new business models and disruptive technologies opens up more opportunities for fiduciary companies to increase efficiency than ever before. A fully automated accounting solution without software breaks, for example, makes manual data entry completely superfluous, reducing the effort involved in accounting to control tasks.
Experience in a free live demo how the Swiss fiduciary software Accounto relieves you of routine tasks and thus makes your everyday work more efficient.
If you can outsource repetitive tasks to a stable and secure fiduciary software, you will have more time for personal advice and your fiduciary company can focus more on the needs of existing, potential and new clients. With services that are geared to the needs of your customers, you score more points with SMEs than with the handling of routine tasks, especially in economically uncertain times. Innovative fiduciary software helps you develop, promote and bill for new services.
4. Promote competent employees
To create the most productive work environment possible, you should empower your employees. Give them enough responsibility and freedom so that they can develop properly. It contributes to the motivation and thus the willingness to perform of many employees if they can have influence at the workplace. If you can offer fiduciary talent meaningful work instead of repetitive tasks, this will also help you to retain skilled workers who are struggling in the labour market.
Modern technologies are also playing an increasingly important role in workplace design. Fiduciaries of generations Y and Z in particular no longer want to deal with partially digitised solutions and software breaks, and not only young clerks increasingly regard typing up receipts as lost time that could be used more effectively.